QUALITY IMPROVEMENT OF STUDY PROGRAMS
After having been carrying out internal AUN-QA programme assessment, study programs will be registered for their quality improvement in the following year in order to improve deficiencies of the previous year reported in AUN-QA programme assessment. CENRes has improved and enhanced education quality of undergraduate study programs such as Environmental Sciences, Environmental Engineering, Land Management, and Environment and Natural Resource Management.   
Quality improvement in study program is a regular activity at College of Environment and Natural Resources.
EXTERNAL ASSESSMENT PLAN FOR STUDY PROGRAMS
Regarding AUN-QA programme assessment, CENReas has planned to conduct internationally external assessment for its study programs. In 2021, the college is carrying out AUN-QA programme assessment of Land Management.
          The CENRes have been collaborating with many partners from inside and outside Viet Nam for conducting studies at different levels. 45 provincial projects, 16 projects granted from the ministries of Viet Nam, 132 and 93 CTU internal project respectively for students and staffs, 28 international projects and 13 projects funded by JICA have been implemented since 2008.
          The partners of CENRes are various from different countries and organisations in the world.  The partners can be listed such as JICA, JIRCAS (Japan International Research Center for Agriculture Science), DANIDA (Denmark), SNV (Germany), NASA (USA), and NGOs (WWF, IUCN,…).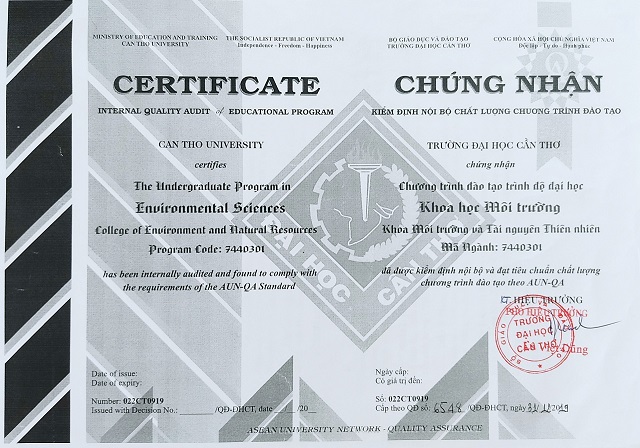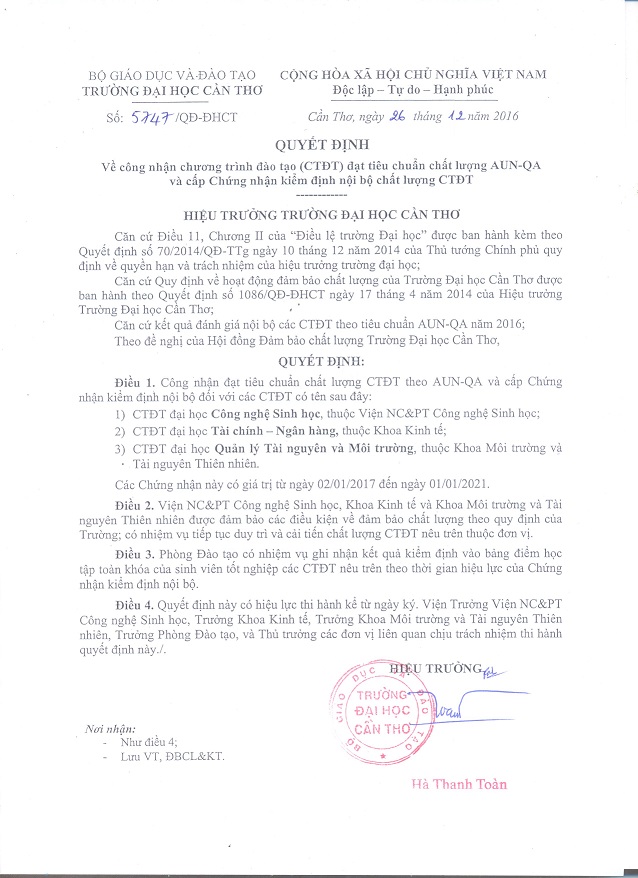 PART-TIME AND DISTANCE TRAINING
Cooperating with Training Cooperative Center, Can Tho University (formerly Department of Academic Affairs), CENRes has offered cooperative study programs since 1997. Up to now, the college has had a successful collaboration with 13 educational cooperative units. The most popular cooperative study programs are Land Management, Environmental Engineering, Environment and Natural Resource Management. In terms of part-time training, it has an enrollment of 1864 undergraduate students. CENRes has been preparing to enroll students for some distance training program of Environment and Natural Resource Management.