Environmental Management 

Lab
Introduction
Environmental Management Laboratory (Lab) was established under Decision No. 1805/QD-ĐHCT dated May 27, 2016. This is a specialized lab for teaching and research in environmental management field. The lab activities offer good conditions for undergraduate and graduate students in practice and performing experiments to better understand coursework, supporting facilities for staff and students in scientific research.
Staff
 Head of Lab: Dr. Nguyen Thanh Giao
 Contact: ntgiao@ctu.edu.vn 
Equipment
The lab is collaborating with other labs in the faculty to ensure sufficient equipment for learning and researching. The lab's equipment is invested mainly from the university's budget and international cooperation programs, especially the Japanese ODA program.
Some lab equipment:
| | | |
| --- | --- | --- |
| No. | Device/tool ​​name | Function |
| 1 | GPS | Supporting groundtruthing, mapping |
| 2 | Oven | Measuring dry biomass |
| 3 | pH meter | Measuring pH |
| 4 | DO meter | Measuring dissolved oxygen |
| 5 | EC meter | Measuring electrical conductivity |
| 6 | Salinometer | Measuring salinity for assessing salinity evolution, saline intrusion |
| 7 | Plankton sampling net | Collecting plankton in water bodies |
| 8 | Petersen's gause | Sampling zoobenthos and sediment samples in water bodies |
| 9 | Microscope | Analyzing plankton diversity |
| 10 | Binoculars | Surveying bird diversity |
| 11 | Tape measure | Establishing standard square for plant biodiversity |
Function and Misson
The Environmental Management Lab serves for practical courses and supporting scientific research.
Field of Research - Application
Teaching theory and practice of modules such as Environmental Quality Management, Ecosystem Management, Practice of Environment and Natural Resources Management, Graduation Thesis, ... 

Instructing students to practice.

Carrying out research on assessment of environmental resource management and biodiversity. Specifically, the analysis of biodiversity indicators of groups of organisms will be applied to the conservation of biological resources, including the maintenance of native species in parallel with the management and prevention of alien species.

Analysing biodiversity indexes as indicators of aquatic and benthic groups applied to the assessment of soil and water quality...

Supporting research and sample analysis in domestic and foreign cooperation projects.

Archiving samples of biodiversity in the Mekong Delta region
Research and Development Orientation
The laboratory focuses human resources development in which the staff are regularly attended in laboratory skill training.  
The laboratory focuses on purchasing laboratory equipment to meet the demand of teaching practical courses and doing research projects in professional fields as well as other related fields and industries.
Activities of the Lab
 Guide students to practice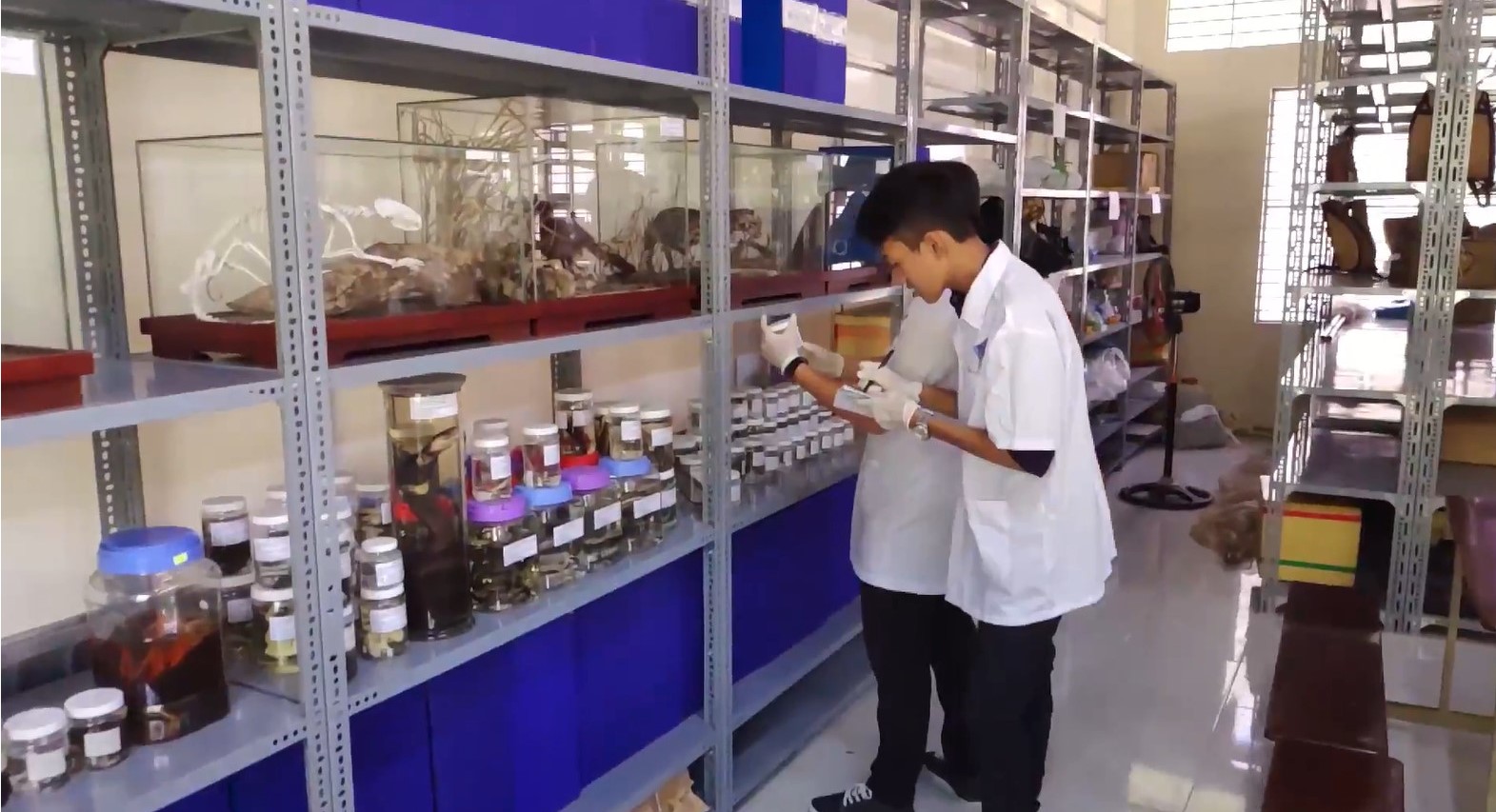 Teaching and training students
Publication of Vietnamese and English Articles
Nguyen Thanh Giao, Huynh Thi Hong Nhien, Truong Hoang Dan. Characteristics of Surface Water Quality and Diversity of Zoobenthos in Water Bodies, An Giang province, Vietnam. Applied Environmental Research, 2021, 43(2):60-76.
Nguyen Thanh Giao and Huynh Thi Hong Nhien. Phytoplankton-Water Quality Relationship in water bodies in the Mekong Delta, Viet Nam. Journal of Applied Environmental Research, 2020, 42(2): 1-12.
Nguyen Thanh Giao and Truong Hoang Dan. Interrelation of Phytoplankton and Water Quality at Bung Binh Thien Reservoir, An Giang Province, Vietnam. Indonesian Journal of Environmental Management and Sustainability, 2020, 4 (4): 110-115.
Nguyễn Thanh Giao, Huỳnh Thị Hồng Nhiên, Trần Ngọc Huy. Đa dạng phiêu sinh thực vật và động vật đáy tại cảng Vịnh Đầm thuộc đảo Phú Quốc tỉnh Kiên Giang. Tạp chí Khoa học Trường Đại học Cần Thơ. Tập 56, Số 6A (2020): 42-56.
Lê Văn Dũ, Phạm Sỹ Nguyên, Trần Thị Ngọc, Trương Hoàng Đan, Nguyễn Thanh Giao, Phạm Quốc Thái. Đánh giá tính đa dạng phiêu sinh động vật ở vùng đệm Vườn Quốc gia U Minh Hạ tỉnh Cà Mau. Tập 55, Số CĐ Môi trường (2019) Trang: 45-52.
Lê Văn Dũ, Nguyễn Thu Thùy Anh, Trương Hoàng Đan, Nguyễn Thanh Giao, Phạm Quốc Thái. Ứng dụng phần mềm Primer đánh giá sự phân bố cá tự nhiên ở vùng đệm Vườn Quốc Gia U Minh Hạ-Cà Mau. Tạp chí Khoa học Trường Đại học Cần Thơ. Tập 55, Số chuyên đề: Môi trường và Biến đổi khí hậu (2019) (1): 88-94.
Nguyễn Thanh Giao, Dương Văn Ni, Huỳnh Thị Hồng Nhiên. Phân khu chức năng khu bảo tồn dựa vào đa dạng sinh học và môi trường: Trường hợp nghiên cứu tại khu bảo tồn Loài-Sinh cảnh Phú Mỹ, huyện Giang Thành, tỉnh Kiên Giang. Tạp chí Nông nghiệp và phát triển nông thôn, 2021 (2): 113-120.